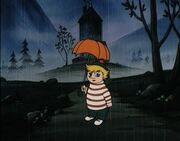 Too-ticky is a winter-loving woman who lives in Moominpapa's Bath house with invisible shrews during the winter. Too-Ticky's (or Tuutikin) character was based on the creator of the Moomins Tove Jansson's life partner, Tuulikki Pietilä.
Too-Ticky is active, optimistic and interested in all things. She has a major role in some comic books and newspapers for example,The Magic Winter , but not all the Moomin books. She does not hibernate during the harsh winter. Too-Ticky's outfit is a red and white stripped sweater and a green bonnet with a red pom.
Her first appearance is in Moominland Midwinter, where she teaches Moomintroll about winter when he wakes up during hibernation. She is also featured in a short story in Tales from Moominvalley, and in the Dangerous Journey, where she pilots a balloon.
One winter, Too-Ticky built for Jäärouvaa, a horse out of snow. Little-My definitely wanted to see Jäärouvan up close, although Too-Ticky warned her against Jäärouvan's icily glance. Too-Ticky also warned a little squirrel, who forgot her warning and Jäärouvan froze him and by touching him behind the ear.
Moomin episodes where Too-Ticky appears
The Invisible Child (Moomin -1990 Episode 9)
The Invisible Friend (Moomin - 1990 Episode 10)
Moomintroll and Little My's Winter Adventure (Moomin - 1990 Episode 21)
The Winter Visitors (Moomin - 1990 Episode 22)
Midwinter Bonfire (Moomin - 1990 Episode 36)
The Memoirs of Moominpapa (New Moomin 1972 - Episode 13)
Pointless Disturbence is Pointless (New Moomin 1972 - Episode 15)
Gallery
Ad blocker interference detected!
Wikia is a free-to-use site that makes money from advertising. We have a modified experience for viewers using ad blockers

Wikia is not accessible if you've made further modifications. Remove the custom ad blocker rule(s) and the page will load as expected.