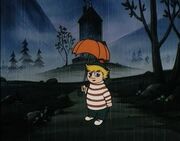 Too-ticky is a winter-loving woman who lives Moominpapa's Bath house with invisible shrews during the winter. Too-Ticky's (or Tuutikin) was based on the creator of the Moomins Tove Jansson's life partner, Tuulikki Pietilä.
Tooticky nature is active, optimistic and interested in all things. She has a major role in some comic books and newspapers for example,The Magic Winter , but not all the Moomin books. She does not hibernate during the harsh winter.
Too-Ticky's outfit is a red and white stripped sweater and a green bonnet with a red pom.
One winter, Tooticky built for Jäärouvaa, a horse out of snow. Sell definitely wanted to see Jäärouvan near, although Tooticky forbade and warned against Jäärouvan's icily glance. Tooticky also warned squirrel scattered minds, who forgot the warning and froze Jäärouvan rapsutettua behind the ear.
Moomin episodes where Too-Ticky appears
The Invisible Child (Episode 9)
The Invisible Friend (Episode 10)
Moomintroll and Little My's Winter Adventure (Episode 21)
The Winter Visitors (Episode 22)
Midwinter Bonfire (Episode 36)
The Memoirs of Moominpapa (New Moomin Episode 13)
Pointless Disturbence is Pointless (New Moomin 1972)
Gallery