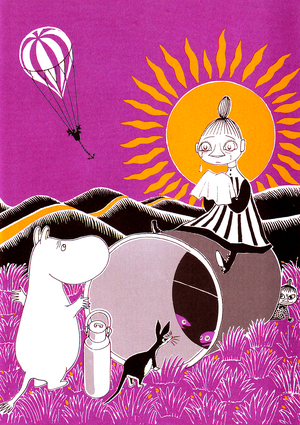 This article is about the Mymble's Daughter. See Mymble for her mother.
The Mymble's Daughter (Swedish: Mymlans dotter) is a character in the Moomin series of books by Finnish author Tove Jansson. Later on the Mymble's Daughter comes to be known as just Mymble. She is Little My's older sister. She is introduced in Moominpappa's Memoirs and later appears in The Book about Moomin, Mymble and Little My, Moominsummer Madness and Moominvalley in November. The Mymble's Daughter is very independent and carefree. She has long legs, red rubber boots, and glossy reddish-yellow hair that she wears in a little topknot on her head.
"It's nice being a Mymble [Mymble thought]. I feel absolutely splendid from tip to toe." (--Moominvalley in November, chapter 6.)
Gallery
Ad blocker interference detected!
Wikia is a free-to-use site that makes money from advertising. We have a modified experience for viewers using ad blockers

Wikia is not accessible if you've made further modifications. Remove the custom ad blocker rule(s) and the page will load as expected.