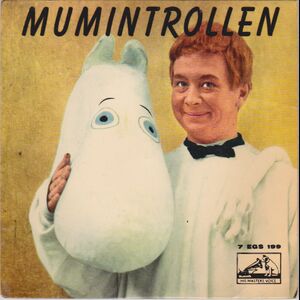 The Moomins (Swedish: Mumintrollen) is a 1960 EP produced after the success of the 1958 stage play Troll in the Wings. The lyrics were written by Tove Jansson, while Erna Tauro wrote the music. All the songs were performed by the actors from the play. These songs were later included in Songs from Moominvalley and Moomin Voices.
Track listing
All songs written by Tove Jansson and Erna Tauro.
Misans klagolåt Misabel's Lament
Lilla Mys visa Little My's Song
Fru Filifjonk ser på livet Mrs. Fillyjonk Contemplates Life
Teaterråttan Emmas filosofi Emma's Philosophy
Mumintrollets meditation Moomintroll's Meditation
Final
Tracks 3-6 were later renamed Fru Filifjonks sång, Teaterråttan Emmas visdomsord, Mumintrollets visa and Slutsång.
Cast
Ad blocker interference detected!
Wikia is a free-to-use site that makes money from advertising. We have a modified experience for viewers using ad blockers

Wikia is not accessible if you've made further modifications. Remove the custom ad blocker rule(s) and the page will load as expected.