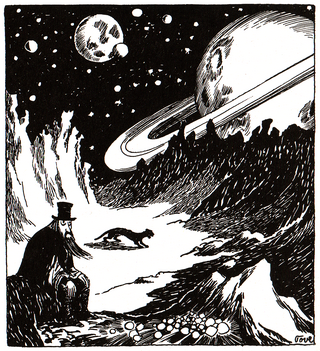 The Hobgoblin (Swedish: Trollkarlen) is a powerful magician appearing in Finn Family Moomintroll, who travels the Universe with his flying panther, looking for the King's Ruby. His top hat is found in the Lonely Mountains by Moomintroll, Snufkin and Sniff, who take it back to the Moominhouse. Chaos ensues, as anything you put inside the hat is transformed. Moomintroll himself is changed into a strange creature by the hat when he uses it to hide in during a game of hide-and-seek. The hat also changes the Moominhouse into a sort of jungle.
Ad blocker interference detected!
Wikia is a free-to-use site that makes money from advertising. We have a modified experience for viewers using ad blockers

Wikia is not accessible if you've made further modifications. Remove the custom ad blocker rule(s) and the page will load as expected.