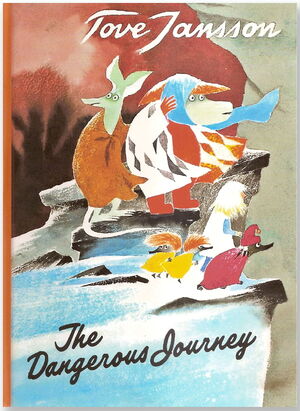 The Dangerous Journey (Orig. Swedish Den farliga resan) is a children's picture book in the Moomin series by Tove Jansson. It was published in 1977. It tells the story of a girl named Susanna who meets up with the Hemulen, Sniff, Sorry-oo, and Thingumy and Bob as they travel to Moominvalley.
. 
English Edition
The book was published in English by Ernest Benn, and translated by Kingsley Hart. It was released once as a hardback copy which has since become a sought after item by collectors. It is currently out of print.
External links
Ad blocker interference detected!
Wikia is a free-to-use site that makes money from advertising. We have a modified experience for viewers using ad blockers

Wikia is not accessible if you've made further modifications. Remove the custom ad blocker rule(s) and the page will load as expected.