For Snufkin in other media, see Snufkin.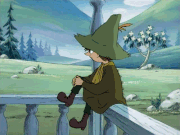 Snufkin
is one of the protagonists in the
Moomin
anime series from 1990-92.
The knowledge he gained from his travels often comes in handy, as he often is knowledgable about or heard of many of the dangers the Moomins face. He often thrives in seclusion.
Gallery
Ad blocker interference detected!
Wikia is a free-to-use site that makes money from advertising. We have a modified experience for viewers using ad blockers

Wikia is not accessible if you've made further modifications. Remove the custom ad blocker rule(s) and the page will load as expected.