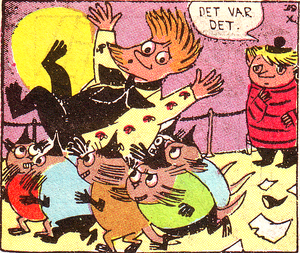 Niblings (Swedish: Klippdassar) are small aquatic creatures, which chew off people's noses if they are too long for their taste. They enjoy doing the multiplication contests devised by the rather bossy Hemulen's Aunt. One Nibling travelled with Moominpappa and his friends on the Oshun Oxtra and celebrated the Island King's 100th birthday.
Ad blocker interference detected!
Wikia is a free-to-use site that makes money from advertising. We have a modified experience for viewers using ad blockers

Wikia is not accessible if you've made further modifications. Remove the custom ad blocker rule(s) and the page will load as expected.