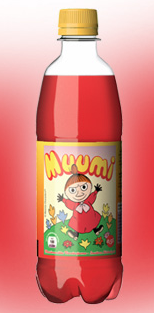 Muumi Sinebrychoff manufactured in Wild Strawberry and raspberry flavor of soft drink. S oft drinks have been sold to 1990s onwards. Bottles, labels occur Moominworld characters.
Lemonade sold in 0.5 liter bottles. Internet petition has been drawn up, in which citizens have called for a brewery to produce a drink to larger containers. It has been signed so far, nearly 30 000 people
[1].
External links
References
↑ ((Web reference | Address http://www.adressit.com/muumilimu = | Title = Muumilimu 1.5-liter bottles! | Author = | Format = | Description = | Publications = | Date = | Location = Release | Publishers = | Subsequent = 8/11/2008 | language =))
Ad blocker interference detected!
Wikia is a free-to-use site that makes money from advertising. We have a modified experience for viewers using ad blockers

Wikia is not accessible if you've made further modifications. Remove the custom ad blocker rule(s) and the page will load as expected.