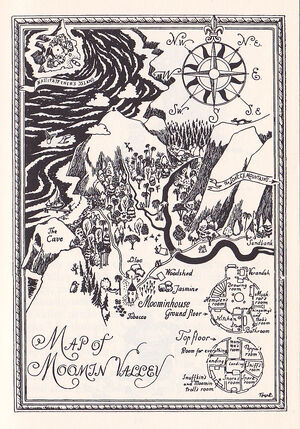 Moominvalley is a fictional place, where the Moomin and many of their friends live in the tales by Tove Jansson. The valley is surrounded by mountains and is close to the sea. According to the map from Moominvalley in November it is next to the Fillyjonk's valley. It's implied to be located somewhere on the finnish coast.
In the early books Moominvalley is depicted as a fairyland with green slopes, rivers, fruit trees, flowers and a place for calm and peaceful life as in the tradition of pastoral poetry, and yet it is still threatened by natural forces such as floods, comets and volcanoes. In the later books Moominvalley is depicted in a more nordic fashion, with pine forests, a rocky archipelago and northern weather conditions, often set during autumn or winter.
Known Locations
Gallery
Ad blocker interference detected!
Wikia is a free-to-use site that makes money from advertising. We have a modified experience for viewers using ad blockers

Wikia is not accessible if you've made further modifications. Remove the custom ad blocker rule(s) and the page will load as expected.