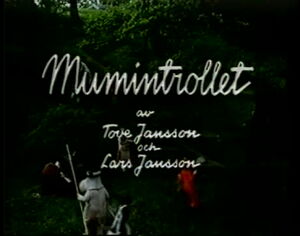 Mumintrollet (Moomintroll) was a Swedish television series from Finland, released in 1969, based on the Moomin books by Tove Jansson. It was written by Tove and her brother Lars Jansson and was directed by Vivica Bandler.
The series featured live actors dressed in Moomin costumes. It is infamous for having the actors portraying the Moomin family take off their costume heads a bit into the series.
13 25-minute episodes were produced.
Episodes
Den lyckliga dalen (The Happy Valley)
Av med näsan (Off With Your Nose)
Fjärilar och hovningar (Butterflies and Courts)
Guld och sammet (Gold and Velvet)
Menuett och spaghetti (Minuet and Spaghetti)
Rubiner och byxknappar (Rubies and Buttons)
Parad och trolleri (Parade and Wizardry)
Kungen kommer! (The King is Coming!)
Kungen blir osynlig (The King becomes Invisible)
Kungen flyger (The King Flies)
Troll och teater (Trolls and Theatre)
Rampfeber (Stage Fright)
Generalrepetition (Dress Rehearsal)
Cast
External links
Ad blocker interference detected!
Wikia is a free-to-use site that makes money from advertising. We have a modified experience for viewers using ad blockers

Wikia is not accessible if you've made further modifications. Remove the custom ad blocker rule(s) and the page will load as expected.