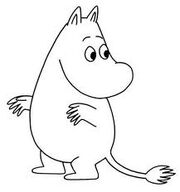 Moomintroll (Swedish: Mumintrollet) is the main character in the Moomin books by Tove Jansson. He lives in the Moominhouse together with his father Moominpappa and his mother Moominmamma and has a keen spirit of adventure. Moomintroll is a 'moomin' - a little white troll with a hippopotamus-like big round nose. He is very kind and well-meaning, but in the comics he is usually more unhappy or annoyed than in the novels. In the early books he was dependent on others, for example Moominmamma and Snukin. This was especially true in the first novel where Moominmamma had to make all the decisions and fend for him and Sniff. Later however he becomes more independent and grown up, most notably in Moominland Midwinter where he has to survive in the new environment of the harsh winter without his family.
His best friend is Snufkin, whom he adores for his carefree lifestyle, though he has other friends, including Sniff. It is hinted many times that he is in love with the Snork Maiden.
He has appeared in all Moomin books except Moominvalley in November , and in all other Moomin media.
Pages
Gallery
Ad blocker interference detected!
Wikia is a free-to-use site that makes money from advertising. We have a modified experience for viewers using ad blockers

Wikia is not accessible if you've made further modifications. Remove the custom ad blocker rule(s) and the page will load as expected.