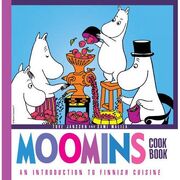 "They're traditional Finnish recipes
– it's an introduction to Finnish cuisine," said editor Emma Hayley at independent publisher SelfMadeHero. "There's drinks, salads, desserts, breakfast at the end of a Nordic summer night – it's great fun, with dialogue and Moominisms interspersed throughout the recipes." Other recipes will include the Snufkin's picnic pot, the Lighthouse Keeper's fish pie and potato au gratin for hungry Moomins.
The cookbook has already been published in Finnish, Swedish, English and French, where it is doing well, Hayley said. Jansson's writings have recently undergone a revival in the UK, with her adult novels The Summer Book, The Winter Book, Fair Play and The True Deceiver all reissued in the last 10 years.
Ad blocker interference detected!
Wikia is a free-to-use site that makes money from advertising. We have a modified experience for viewers using ad blockers

Wikia is not accessible if you've made further modifications. Remove the custom ad blocker rule(s) and the page will load as expected.