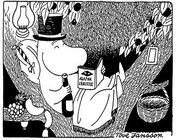 Moominpappa (Swedish: Muminpappan) is a Moomin married to Moominmamma and is the father of Moomintroll. Orphaned in his youth, Moominpappa is a somewhat restless soul who left the orphanage to venture out into the world with his friends Hodgkins, The Muddler and the Joxter, but has now settled down, determined to be a responsible father to his family: his wife Moominmamma and their son Moomintroll. He is almost always wearing his black top-hat, inside which is painted, "M.P. from your M.M." to differentiate it from all the other top hats in the world. Moominpappa also lived on a ship with three Hattifatteners for a few days, observing their behaviour.
According to his family, he writes down all of his adventues in a book called "Memoirs". He once commented that because so many adventures happen to him, he might never finish the book.
According to Moomintroll, Moominpappa can fix anything if he is able to get around to it.
Pages
Gallery
Ad blocker interference detected!
Wikia is a free-to-use site that makes money from advertising. We have a modified experience for viewers using ad blockers

Wikia is not accessible if you've made further modifications. Remove the custom ad blocker rule(s) and the page will load as expected.