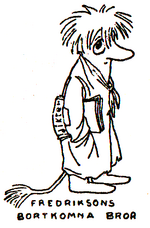 Hodgkins' Lost Brother
(Swedish:
Fredriksons bortkomna bror
) is a minor character only mentioned in passing in
Moominpappa's Memoirs
. He is a poet who wrote a collection of poems called the Ocean Orchestra, which
Hodgkins
' river boat
Oshun Oxtra
was named after.
It is known that Hodgkins is the Muddler's uncle on his fathers side, and while it is never stated directly, the fact that both Hodgkins' brother and the Muddler's parents are missing reinforces the theory that Hodgkins' brother is the Muddler's father, and by effect Sniff's grandfather.
Ad blocker interference detected!
Wikia is a free-to-use site that makes money from advertising. We have a modified experience for viewers using ad blockers

Wikia is not accessible if you've made further modifications. Remove the custom ad blocker rule(s) and the page will load as expected.