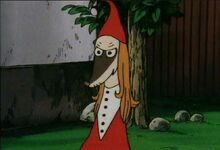 The Fillyjonk is a minor character from the 1990-92 TV show Tanoshii Mūmin Ikka.
Personality
The Fillyjonk is considered the opposite to the Moomin Family, as she is very protective of her three children and never lets them play, only read or study. She also hates mess, as seen when she first enters the Moomin house. She tries to act proper and logically, but in tense situations gets worried and flustered.
Gallery
Ad blocker interference detected!
Wikia is a free-to-use site that makes money from advertising. We have a modified experience for viewers using ad blockers

Wikia is not accessible if you've made further modifications. Remove the custom ad blocker rule(s) and the page will load as expected.