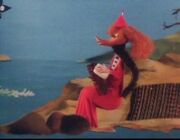 Mrs Fillyjonk is the opposite of the Moomin family. Not a single moment of fantasy or joy, only duties and discipline. She is an extremely methodical person tied down with principles and has a deep rooted belief in prestige and tradition. But in a catastrophe, Fillyjonk may behave totally irrationally. Deep inside she probably has a wish to live like the Moomin family, without any worries. She is most often accompanied by her three children.
Ad blocker interference detected!
Wikia is a free-to-use site that makes money from advertising. We have a modified experience for viewers using ad blockers

Wikia is not accessible if you've made further modifications. Remove the custom ad blocker rule(s) and the page will load as expected.